The EasyPower product suite delivers a full lineup of powerful Windows®-based electrical software tools for intelligently designing, analyzing, and monitoring electrical power systems. With the fastest processing speeds on the market, EasyPower delivers instantaneous, accurate results to help you make more intelligent decisions. EasyPower is the smart, fast and accurate solution for your arc flash hazard analysis software.
What Are The Main Benefits of EasyPower?
Some of the key benefits of EasyPower include the ability to perform even the most complex electrical engineering tasks in minutes.
Perform even the most complex electrical engineering tasks in minutes
Receive detailed critical reports automatically—and avoid creating them yourself
Eliminate dangerous and costly electrical hazards
Comply with NEC rules and ANSI standard
Our client base includes companies involved in the food industry, defence, as well as operators of electrical assets in petrochemicals, process engineering, manufacturing and electrical contracting. We are committed to providing our customers with advanced power system products and services, which deliver tangible benefits for their businesses. Our products, services, management systems, knowledge and expertise enable customers to:
Design, Analyse and Monitor electrical power systems
Prevent power outages and plant interruptions
Assess the condition of electrical assets
Predict electrical asset failures
Optimise power substations & network operations
Make smarter investment decisions, every time!
Achieve safety & standard compliance
Develop their power skills and capabilities
What is EasyPower maintenance?
The first year of maintenance is included with the purchase of each EasyPower copy. Annual maintenance includes all program updates-including new version releases-device library updates, technical support (phone and email), and discounts on EasyPower training. After the first year, maintenance is renewable, with annual pricing based on the package purchased. Please email on: easypower@elecsafety.co.uk or call us on 0800 652 1124
Can I upgrade EasyPower by adding buses or more features?
Yes. You can start conservatively and add buses or optional modules as & when required. You can add copies as well, either stand-alone or on a network, as your needs require.
How is EasyPower sold-with a single-user or a network license?
EasyPower is sold with a single-user license, either as a stand-alone program or on a network. You are welcome to install it on multiple computers in your office. However, in order to use EasyPower, you must have the hardware key attached to the computer in use. Many offices find this process works well if only one or two people use EasyPower, or for having EasyPower on a laptop for home or field use. If a single-user license proves cumbersome, you can purchase additional stand-alone copies or a network conversion for an additional fee.
Are discounts available to companies purchasing multiple copies?
Yes. EasyPower do not however offer reseller discounts as they sell through select international representatives.
What are your purchasing terms?
All prices are in GBP + VAT and are subject to change without notice
An admin fee, install & shipping costs apply on all orders
For further details please email us on: easypower@elecsafety.co.uk or call 0800 652 1124
Because EasyPower is totally customisable to include only the features you need, pricing varies in accordance with the customer's requirements. We, therefore, do not publish a price list online.
Pricing is mainly based on bus size and the combination of optional features. For our most popular suites, we have options for 50, 100, 300, 1000, 5000 and unlimited buses. We will gladly customise a package for you. Please email on: easypower@elecsafety.co.uk or call us on 0800 652 1124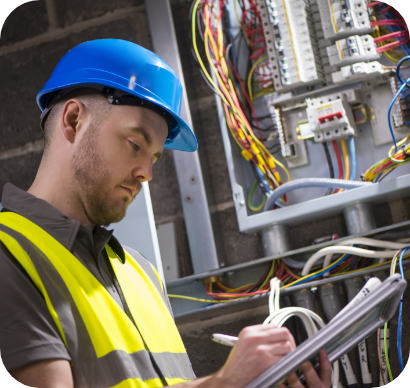 You may not require the full package or may want a tailored approach to meet your specific needs- not a problem! Just drop us a line and we will work with you to ensure that you get the best service.
We are able to offer a range of electrical technician and engineering consultancy services and advise on projects and issues that you may have. Our engineering team has extensive experience of incident investigations and working alongside the enforcing authorities.
We also have our Electrical Systems Studies division that works closely alongside Electrical Safety Management and don't forget- we have an extensive training department too!
Download PDF
Contact us to find out more