BS 7671:2018+A2:2022- how bad (or good) were the changes?
The second amendment to the 18th Edition IET Wiring Regulations are out, and all of the IET Guidance Notes have been updated accordingly. Electricians and engineers have had time to digest every minute detail and discuss the implications at length.
In reality, does this latest version of the Requirements for Electrical Installations make such a
big difference?
Well, the answer really depends on how much you have kept up to date with the previous amendments, and the type of works that you undertake. If for example you work in a domestic environment, and you have got used to fitting RCDs to all circuits and have migrated towards fitting Surge Protection as standard, there will not be much more to worry about at the moment, but bare in mind, the regulations have now been modified to cater for the big changes that are to come into place regarding Electric Vehicle Charging and the complex world of the Prosumer and small scale generation. Whilst the impact of the changes may not be immediate, at some point it will affect us all.
What if I work in an industrial environment?
Again, the effect of BS 7671 and its changes will depend on what work you undertake. As an installation or maintenance electrician, most of your daily routine will go unchanged, we still bend conduit and terminate armoured cables pretty much the same as before, however, if you undertake design of electrical systems, there could be one or two additional requirements to consider, and in some instances a little more leeway on how we achieve compliance.
Is change a bad thing?
Change is nothing new, and with every change, electrical systems become a little safer than they were before. Many of us will have seen bonding requirements explode, and then a gentle reduction in what we connect to, some of you will remember the agony of bonding metal sink drainers, radiators, and metal window frames! RCDs have also evolved, starting with voltage operated earth leakage circuit breakers, then moving towards current operated devices that protected the whole electrical installation. We now have various versions of RCCBs and RCBOs, each with characteristics that offer the best protection to the circuits that they serve. Surge Protection Devices have evolved significantly, from a basic filter socket of the 1980's to the types that we use today, along with the earthing and bonding arrangements that go with protecting vulnerable equipment. Some regulatory changes have unfortunately come about because not every technical change has been a good change, notably the reduction in manufacturing and installation standards for plastic consumer units, requiring some pretty significant changes to the way that we work.
The way that we use electricity has changed, and our energy demand is different to that of 20 years ago. We now have smart homes, where we use wireless and automation technology and ever more sockets incorporate a USB charging port. Some premises generate more electricity than they use, and in some cases export back to the electrical network. LED lighting and energy efficient appliances have in many cases seen a reduction in electrical demand, however, a reduction in the number of gas connections across the country and the rapid move towards electric vehicle charging is seeing a big and unpredictable change in electrical load and how we manage it.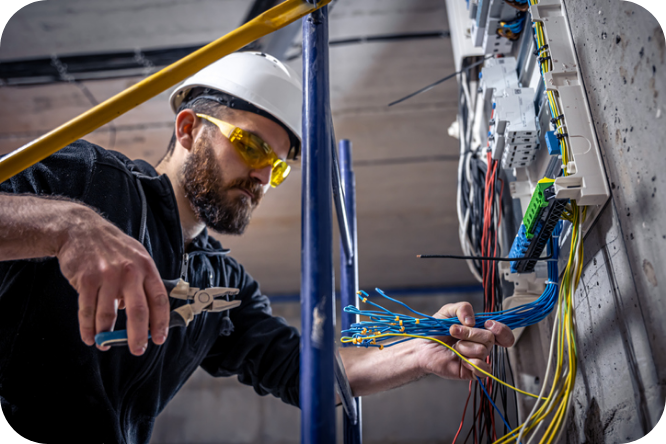 What are some of the changes?
The most obvious change is we now have a Part 8 to BS 7671, dealing with Functional Requirements. We have a new term, the 'prosumer', this being both a consumer of electricity and also a provider of electricity, or in other works a small-scale generator of electricity.
Requirements for bonding have been reclarified to make it clear that an extraneous conductive part that enters a building and can introduce a dangerous potential difference must be connected to the main protective bonding system. Although this requirement has been with us for a while now, it is clarified that utilities entering a building on a non-conducting pipe is unlikely to require main protective bonding.
Arc Fault Detection Devices, recommended by BS 7671:2018 has now been clarified; for some this has been a watering down of what is required, whilst for others it is welcomed definitive guidance.
Arc fault detection devices conforming to BS EN 62606 shall be provided for single phase AC final circuits supplying socket- outlets not exceeding 32 A in:
• Higher Risk Residential Buildings (HRRB).
• Houses in Multiple Occupation (HMO)
• Purpose Built Student Accommodation
• Care Homes
• For all other premises, the use of AFDDs is recommended for single phase AC final circuits supplying socket-outlets not
exceeding 32 A.
Parts of Section 422 have now disappeared in reference to fire and difficult evacuation conditions, replaced by requirements for Protected Escape Routes. It makes sense that electrical planning in relation to fire safety be included in the fire safety management plan. Appendix 13 provides more guidance.
Transient over voltages due to indirect lightning strikes has also changed (again) with the owner of the installation being able to declare that protection is not required due to any loss or damage being tolerable to equipment.
RCD test notices need not be affixed to domestic consumer units, if there is proof that the person ordering the work has been made aware of the requirements, presumably the proliferation of labels affixed to the cover of a consumer unit has become too much toa bare. Similarly, requirements to fit labels to warn of surge protection devices have been introduced, with similar caveats for domestic and similar settings.
If you go looking for rating factors for cables in thermally insulated materials, you will no longer find it in Part 5, this has been relocated to Appendix 4 where much of the other detail is required when determining the current-carrying capacity of conductors and cables.
RCD Type AC now can only be used to serve fixed equipment, where it is known that the load current contains no DC components, something that has been discussed for many years but not acknowledge by BS 7671.
When considering the cross-sectional area of a main protective bonding conductor for a site with several buildings, clarification has now been made to confirm that the bonding conductor is selected based on the supply to that building, rather than the supply to site.
Inspection, testing, and certification / reporting does see a few changes, but to the well experienced test operative this should pose little problem.
Special installations and locations also see some changes, again nothing major for those who have kept abreast of the previous changes and additions. Don't get exited about the change in proximity of a socket outlet to a bath or shower, the difference is minimal.
The new Chapter 8 within BS 7671 covers energy efficiency measures, the interface with the smart grid, the management of electricity consumption, the management of renewable sources of electricity, and energy storage. This is a complex area and this blog only mentions some of the many requirements concerning prosumers' electrical installations (PEIs). Chapter 82 provides additional requirements, measures and recommendations for the design, erection and verification of all types of low-voltage (LV) electrical installations. With active energy management, the end-user should be able to permanently monitor and control his or her own electricity consumption and production. The concept of the PEI has also been developed to take advantage of renewable sources of energy (such as solar photovoltaic (PV) and wind turbines) and energy storage. There are different types of PEI. They include:
• individual PEIs
• collective PEIs and
• shared PEIs.
Individual PEIs are considered to be an electrical installation (for example, a private house or workshop) that can either produce or consume electrical energy.
Three operating modes are considered for individual PEIs.
• direct feeding mode (where the installation is supplied from the grid or supply network
• island mode (where the installation is supplied from its own generator) and reverse feeding mode (where the installation supplies electricity back to the grid or supply network).
• Collective PEIs are several consuming electrical installations connected to the same public distribution network and sharing one common set of local power supplies and energy storage equipment.
What about my qualifications?
City & Guilds have introduced the 2382-22 qualification, which is based on Amendment 2 of BS 7671, until BS 7671:2018+A1:2020 is withdrawn in September 2022, it is possible to register for either exam, although check which version your training centre is delivering to, and which copy of BS 7671 you will require to take into the exam room. Here at ESUK we have already made the change, but for those clients who wish to undertake the old Amendment 1 exam we can still arrange this while ever City & Guilds continue to offer it. For those who are looking to renew their JIB or ECS Gold Card, you will need to hold a current BS 7671 qualification when applying to renew, if you wish to retain your Registered Electrician status.
Final thoughts
Amendment 2 of BS 7671:2018 seeks to set in place the requirements for electrical installations as we move into a changing, and unpredictable world, which it seems to have done without too much upheaval. The way in which we use electricity is changing, and the standards that control safe design and installation need to change with the times. Electrical technology will constantly evolve, if we can embrace the changes that come with it, we will be better placed to meet the needs of the future.
Contact us to find out more